You Can Achieve 20% Improvement In Productivity And Build A Certified Internal Productivity Improvement Team In Less Than 3 Months
What if we tell you that there is a 3-step process to improve your business profitability or reduce your business cost by at least 20% in less than 3 months?
This process will help your company to build a team of internal productivity improvement specialists, certified and recognised by Singapore Productivity Association. You can build the capability to start your own journey of continuous productivity improvement to save business cost and bring in higher profitability.
Join the 89 local enterprises who have built their own in-house productivity improvement capability and the 240 productivity specialists who are certified by Singapore Productivity Association as Certified Productivity Practitioner, since 2010. Being so successful and receptive by the SMEs, it is difficult to produce a better programme. However, that is what Singapore Productivity Association did after 6 years, by introducing an improve productivity improvement programme, The Enhanced Certified Productivity Practitioner Programme (eCPP), in late 2016.
eCPP Case Study 1: An F&B company reduced food processing time by 20% even with lesser manpower. It was achieved through the implementation of more efficient food preparation and processing methods, coupled with a few changes in its layout.
eCPP Case Study 2: A retail store reduced stock access time by 60% even with 17% less manpower. It was achieved through the implementation of more effective delivery time schedule and more efficient back-end ordering processes.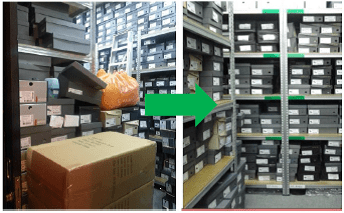 Enhanced Certified Productivity Practitioner Programme (eCPP Programe)
So if you feel the pressure of increasing business costs year-on-year, and face an eroding profit margin, look no further. We have a solution to improve your internal productivity capability and build your own team of productivity specialists that will reduce costs and improve business profits.
This is a programme accredited by Singapore Productivity Association administered together with WSG. It is the Enhanced Certified Productivity Practitioner Programme (eCPP Programe). eCPP is an enhanced signature core productivity programme launched in late 2016 from Singapore Productivity Association, a new programme succeeding the previously successful CPP programme.
More benefits of engaging the eCPP programme:
You only pay as little as 10% of the cost, and the remaining 90% is funded by WDA.
You can identify a 6-man task team to be mentored by an experienced and certified productivity consultant and trainer throughout the length of the project.
The assigned mentor will be coaching the task team on-site to diagnose and identify challenges, implement solutions and roadmaps, and achieving productivity performance.
The task team will learn how to implement the tools and methodologies, and execute productivity improvement techniques and processes on pre-identified productivity challenges in your business operations.
The participating company can continue to engage more internal productivity projects with this task team to reduce more costs for the business that will in turn result in higher profitability.
Multiply the involvement of participating company by inviting more staff to be trained internally by these certified productivity practitioners.
Create a company core of productivity improvement culture with the rest of the staff.
All the members of the task team will be awarded by Singapore Productivity Association as an Enhanced Certified Productivity Practitioner.
The participating company will be recognized as one company in the honour roll of Singapore Productivity Association.
The company is qualified to increase their investment values by enrolling in our Advanced Productivity Implementation Programme (APIP).
3-step Framework and Process
eCPP Programme uses a 3-step framework and process to coach your productivity improvement task team:
Identify and Analyse productivity Issues
Develop and implement productivity solutions
Enhance business and productivity performance
This is a simple but effective process used successfully by 89 local enterprises who have built their own in-house productivity improvement capability, and its 240 certified productivity practitioners since 2010 by Singapore Productivity Association. They are continuously improving their productivity, increasing their profitability and reducing their costs year after year.
Become One Of The Successful High Productivity And Profitable Company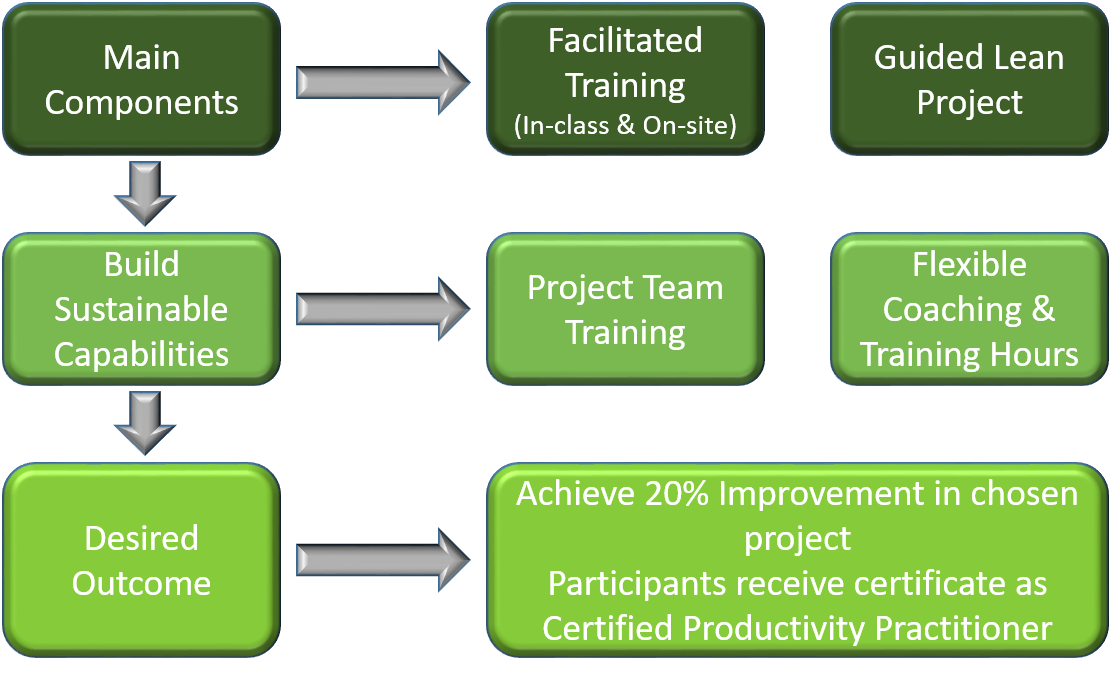 Business and Productivity Performance Assessment

A diagnostic approach to assess company's performance and identify areas for productivity improvements
Establish a company-specific Productivity Roadmap

Capabilities in Productivity Improvements

Acquire knowledge on productivity techniques, tools and methodologies through a combination of in-class and on-site training for entire project team

Project Ccoaching and guidance by a productivity consultant to achieve at least 20% improvement
Project Implementation Review to check efficacy of solutions and plan further cycles of improvement
Note: Please slide left and right to view the table details.
SMEs
Non-SMEs
Course Fee
$18,800
$18,800
WDA Funding
($16,920)


90% funding for SMEs

($13,160)


70% funding for Non-SMEs

After Funding
$1,880
$5,640
Nett Fee Payable
(Inclusive of 7% GST)
$2,011.60
$6,034.80

PIC Claim as of 1st August 2016

Cash Payout
($752)
($2,256)
* T&Cs apply
** PIC claims only applicable to eligible companies. T&Cs apply. Cash Payout Conversion rate is revised on/after 1st August 2016.
Registration of the eCPP programme is to meet the following requirements:
One project per registered company only
Only 6 participants are allowed to be recommended per company (Singapores or PRs only)
Compulsory for participating companies to complete the full programme
Nett Outlay after WDA funding:

SMEs = $2,011.60
Non-SME = $6,034.80

Notes:

Singaporeans or Permanent Residents only.
WDA funds 90% and 70% of the programme for SMEs and Non-SMEs respectively. T&Cs apply.
PIC Claims only applicable to eligible companies. T&Cs apply.
Next 10 weeks can make a difference in profitability for your business
Take this opportunity to increase profit, lower cost and improve productivity TODAY!
Sign up for a complimentary diagnostic appointment with us NOW! ABSOLUTELY FREE
Enjoy the benefits by signing up now:
Pay as little as 10% of the original cost
Coach and mentor by experienced consultant
Achieve at least 20% improvement in less than 3 months
Get certify and recognise by Singapore Productivity Association
Create a company core and productivity improvement centric culture
Build your own productivity improvement task team
Recognise as one of the company in the HONOR ROLL of Singapore Productivity Association
All the members of the task team will be awarded as an Enhanced Certified Productivity Practitioner