Productivity Case Study 1
Restaurant Serving Fusion Cuisine to increase profitability by implementing productivity improvement programme
Project Background
Project Objective:
To review and diagnose the operations from the perspective of productivity by focusing on increasing sales in attracting new customers during lunch hours.
To provide implementable solutions to improve productivity.
Client Background
Sector: Food and Beverage
Nature of Business: Fusion Cuisine Restaurants
Countries of Business Operated: Singapore
Diagnostics Conclusion and Challenge
The diagnostics concluded that the whole approach to business is driven by what the owner thinks (and by that extension company) is right product, service and way to offer. There has not been a structured effort in understanding the customer, their needs, motivations, aspirations or current gaps that they perceive in the restaurant offering. Being driven by passion for food craft, main focus of owner and the company has been on the food and ambience. This is of course good as the quality of food as well as ambience is great, but this doesn't necessarily mean that concept is clear or is clearly communicated to the target or prospective customers. The diagnostics also revealed that one of the biggest impediments for growth is lack of planned marketing outreach. This is also result of the fact that the restaurant doesn't have a defined set of core customer cohort.
Identified Possible Solutions and Analysis
Identify the value creating activities for the customer, and focus on the specific actions that create the most customer value.
Evaluate the differentiation strategies to improve value to the customer, such as to increase the ability to customize and tailor the menu, and offer a range of complementary products that enhance your overall menu mix of more Asia and western fusion food
Identify the best differentiation method that is sustainable long term, which is often a mix of many different activities to promote delivering a higher customer value. The right combination will give you a sustainable differentiation advantage.
Need to cast the nets wider to reach out to potential customers within the 1 km range as proximity is important for lunch meal. Current database of about 60 regular customers need to be increased.
Consider referral program to leverage on the existing customers who are satisfied with the food, service and the ambience.
Good healthy home cooked food with excellent service and ambience together with testimonies from satisfied customers can be used for marketing purposes to communicate to potential customers
Frontage signage needs to be brighter to attract walk in customers
Promotional offer / discount to attract customers to dinner as the occupancy rate is low.
Display visibly the food menu at the door entrance so that outsider knows that this is a café that offers good food.
Approach and Recommendation
We led a cross-functional and collaborative team with our client to explore needs, approaches, and opportunities of human resources capability. The project team identified the critical success factors, team strength and challenges through diagnostic processes.
The process leads to establishing a performance management framework aligned to meet our client's long term business growth strategy for expansion.
Together with our experienced consultants, our client's management team first identified and established the company's vision, mission and company core values critical for the success of the business growth and expansion.
A SMART goal setting process is adopted to define business growth objectives, and identify Key Performance Indicators (KPIs). Our client's management puts in effort in communicating with its staff to align respective departmental and individual goals to the business KPIs, ensuring teams work towards a common objectives.
One of the key achievement is integrating company core values into the performance management system to cultivate the desired mind-set, behaviour and actions for the staff in achieving company's business objectives.
The project focus on establishing the appraisal process to achieve not just the tangible operational and business KPIs, but also the intangible goals of company values and behaviour.
Implementation of the first appraisal cycle complete with conducting trainings and staff communication sessions for goals alignment.
The Results Were Amazing
Possible Solutions Ranking
Prato Analysis of the Possible Solutions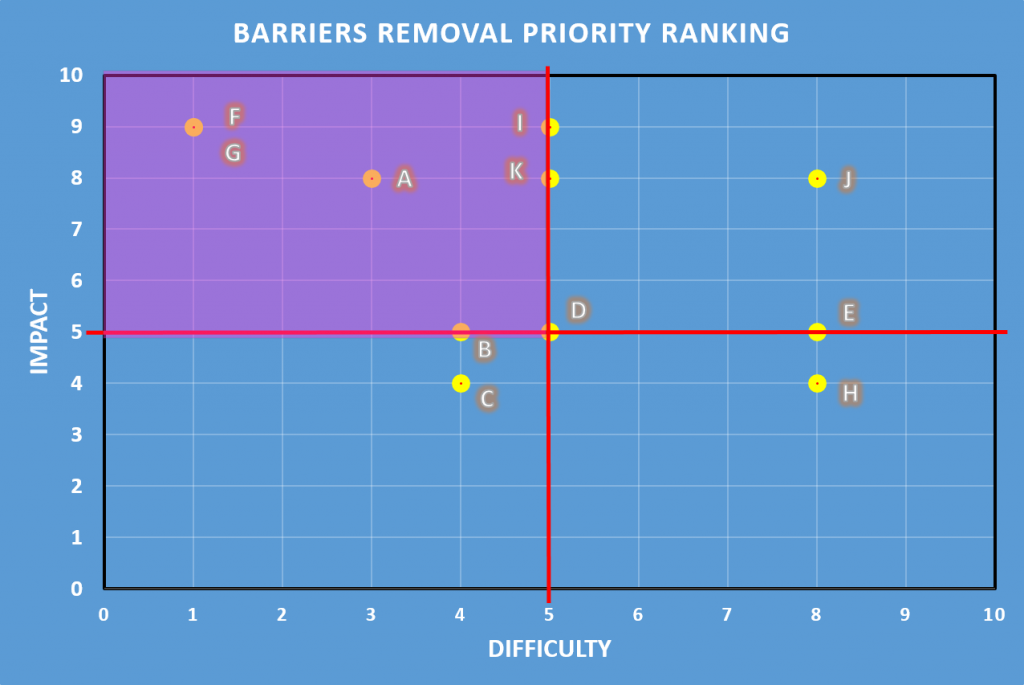 Recommendations
Marketing perspective includes a variety of measure to bring in more customers, so as to increase sales revenues and profit.
Business operations can be optimized with Standard Operating Procedure (SOP) that concerns works of waiters and kitchen operation. Employees provide an organization's human capital with the right set of skills that are acquired on the job, through training and experience, so that they can better serve the customers and the company.
Set up frontage signage as the first visible advertisement to increase restaurant's visibility to attract customers and increase sales.
Performance management to capture critical business data for analysis and decision making.