Business Strategic Planning and Implementation
We Help With Your Business Strategic Planning and Implementation
Business Strategy Creation and Thinking
Talent Continuity, as one of the leading business consultancy for planning, implementing and integrating of Business Strategic Development, Performance Management, and Operational Productivity using Consultancy mentoring and coaching methodology.
Talent Continuity enable businesses to multiply business profitability and improve operational productivity, which is done by integrating sustainable innovative solutions and workforce management processes into their business operations strategy.
We help you to envision the potential outcomes and adopt the strategies to increase profitability of your company.
How Talent Continuity helps in your Business Strategic Development?
We have developed a comprehensive Business Strategic Planning processes that can applied on any businesses in all industries. Our processes are simple to understand and easy to implement, but yet comprehensive enough to cover all expects of business strategy. Our processes include a linkage to our clients' performance management system to ensure activities developed, are being executed and implemented, ensuring outcomes are realized at the end of each financial year……Increase in sales will be materialised.
What other benefits……
Our consultation method is different from traditional consultancy company. We coach the managers and executives of our clients to complete the improvement processes, and mentor them for implementation. Our methodology of coaching and mentoring allows our clients to implement the processes independently year-after-year without our intervention after completing our first involvement, thus saving time, resources and cost in the long term.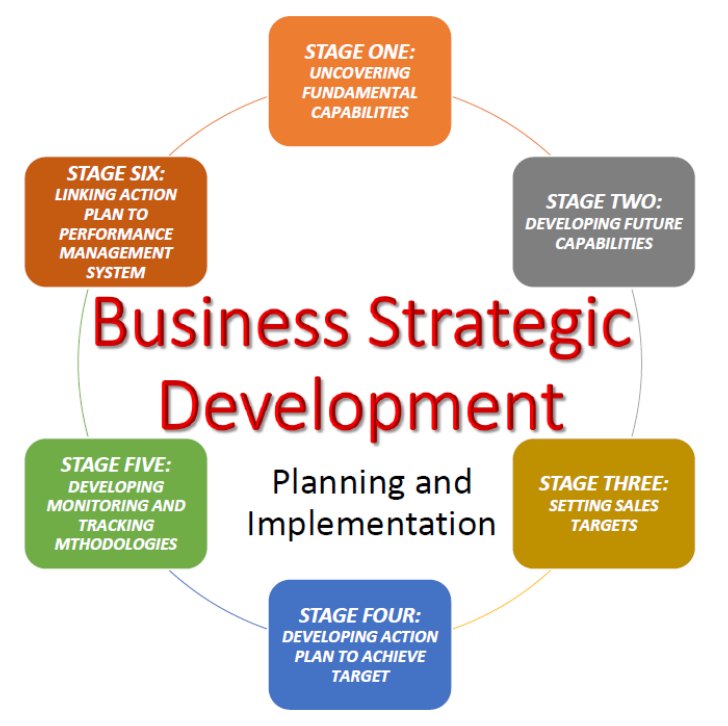 STAGE ONE: UNCOVERING FUNDAMENTAL CAPABILITIES
Working with you and your team, we will go through a process of Questioning, Searching, Discovery, Understanding, Developing and Actions Planning.
Step 1: Understand your current business conditions and your business capabilities.
Step 2: Discover what is your Strengths, Weakness, Opportunities and Threads of your current business.
Step 3: Develop solutions to take advantages of your situations (strengths and/or weakness), or overcome your existing or potential threads and/or weakness.
Step 4: Converting solutions to implementable action plans.
STAGE TWO: DEVELOPING FUTURE CAPABILITIES
Depending on your Business Needs, Organisational Structure, Expansion Ambitious (of the Business Owner) and other business factors. We can approach the next STAGE of Business Capabilities Development in a few directions. Illustrated below is just one of the more traditional way.
Step 1: Define your future customers, and their needs in order to meet your business expansion plan.
Step 2: Define your future capabilities (you need to have) in order to meet the needs of your future customers.
Step 3: Define the paths or methods for you to deliver your capabilities to your future customers.
Step 4: Define other support structure such as Customer Relationship, Supporting Resources, Supporting Suppliers, Key Cost and Revenue Structure.
Step 5: Determine Action Plans (activities) for implementation and execution, to realize Future Capabilities.
STAGE THREE: SETTING 3-to-5 YEARS SALES TARGET
Your team will have a clear picture of what is the best services and products your business must developed, in order to deliver to the customers whom you are targeting. Developing these capabilities and channels, defined your abilities to meet your Sales Target.
STAGE FOUR: DEVELOP ACTION PLAN TO ACHIEVE TARGET
At this stage of the Business Strategic Planning, your team will be developing the detail activities required by individual departments (Sales & Marketing Team, Operation Team, and Support Team), and also the individual members of each team.
STAGE FIVE: DEVLOP MONITORING AND TRACKING MTHODOLOGIES TO MEET THE YEARLY SALES TARGET
To be successful in implementing and executing your plan, you must develop a methodology of able to monitor and track the progress of the activities, and the ability to make corrective actions when the actual deviated from the plan.
STAGE SIX: LINKING ACTION PLAN (ACTIVITIES) TO PERFORMANCE MANAGEMENT SYSTEM
A well-defined plan also define roles and responsibilities of departments and its individual, in taking part in executing and implementing the action plan. Linking department and individual performance to their respective outcomes are critical for the success of Strategic Planning.
How can Talent Continuity help to improve your business?
We help in Developing and Executing Business Strategic Plan
We help in Developing and Implementing Performance Management System
We help in Linking Business Strategic Plan to Performance Measurements
Other Value Added Services
In the process of assisting your team to realise the business strategic plan, our team of consultants will provide services to ensure the success of implementation:
Training and Development
Leadership Coaching and Mentoring
Talent Management and Succession Planning
Productivity Improvement
Manpower Planning
Enterprise Development Grants (EDG ) from Enterprise Singapore (ESG) to defray cost